Visit us at Overlook Golf Course and play some of the finest golf courses in the world, with our TRUGolf Simulator in any weather. You can golf any time of the year indoors, and improve your game with the highly accurate Integrated Swing Analyzer or enjoy playing a round on a new course.
Call us at (360) 422-6444 and make an appointment to experience this state of the art technology today.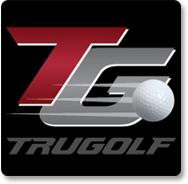 Independently tested by leading golf equipment manufacturers against other high-speed camera systems and launch monitors, our proprietary TruTrac system has been lauded as simply incredible, rivaling the accuracy of high-speed camera systems, AND providing you with the data critical to improving your performance. It's a testament to our pioneering engineers who have been setting the bar in golf simulation software for over twenty years.
TruTrac integrates two very different tracking technologies into one powerful system, giving you the information you need to dramatically improve your game. Ball flight characteristics are accurately calculated utilizing sonic triangulation positioning technologies in conjunction with optical analysis of the club path and clubface angle.
Many tracking systems are very good at measuring and calculating ball flight, but lack the club head information needed to analyze and boost your performance. TruTrac accomplishes both. We not only know WHAT the ball did, but WHY the ball did it.
Our system, based upon patented technology, uses sonic ball tracking sensors and three rows of optical sensors which measure your club path and clubface angle during impact, and show you that information instantaneously in a clear, easily understood swing analysis screen. The integrated swing analysis is included in practice as well as in game and highlights the distinguishing characteristics of each swing.
TruTrac's sleek interface reveals critical information about your swing including launch angle, club head speed, clubface and path, back spin, side spin, ball speed, direction and carry, all the information vital to improving your performance and enhancing your experience.